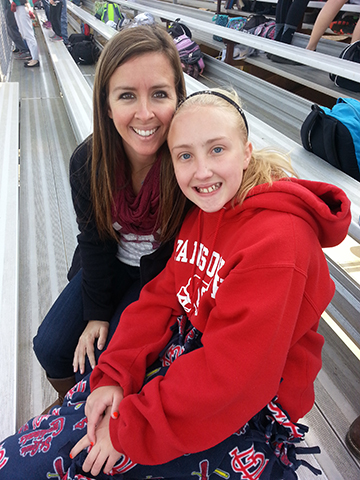 Nikki Pinkley
I had just graduated high school, and in many ways I was about to be a typical freshman in college, entering the academic world with my own dreams and ambitions. But, I found myself in disbelief of the results from the pregnancy test that I held in my hand.
Thousands of thoughts were racing through my mind: "How would my parents react? What would my Church youth group do? How was I supposed to have a life? What about college? How would I have a career?"
My parents encouraged me to go to Options Pregnancy Clinic when I was only a few weeks pregnant. Little did I know how my experiences there would help shape my future. The staff and volunteers were very supportive of every decision, and with me every step of the way.
Options Pregnancy Clinic helped me prepare for successful parenting by encouraging a healthy pregnancy and then by providing parenting education for my newborn. They even helped supply baby items (which was a big financial help). I gained a new perspective, knowledge, and confidence in my ability as a parent through my experience at the clinic.
A major part of my story is how Options helped me continue with my plans for college.
As a single mother, I struggled with being a new mom and a college student. But because I had the benefit of family support and my cheerleaders from Options encouraging me to "hang in there," I was able to push through.
I so respect and appreciate the volunteer mentors who helped me find balance in my life. As I watched them model professionalism and grace, it further solidified what I had always known about myself—someday I hoped to work in a helping field like this.
So, as a sophomore I declared a major in psychology, marking the beginning of my long pursuit to becoming a professional counselor. I wanted to help others in the way I was helped at Options.
I worked hard to earn my bachelor's degree in psychology, before earning a Master's of Science Degree in Counseling Psychology. Especially when I think back to the beginning of my life as a college student and a new mom, I can hardly believe that now I am currently working toward a doctoral degree. I have loved my 8-year career as a Licensed Professional Counselor, and I currently have a private practice counseling center, Restoring Wellness Counseling, LLC.
As a mother to a beautiful 14-year-old daughter and wife to a great husband, I view life from a new perspective. My relationship with my daughter has taught me how to be patient, hard-working, and motivated. I am thankful for everything, especially my little girl, Alexis, who is growing into a beautiful, talented, smart young lady (and I'm not just saying that because I'm her Mom!).
My hope is that every young woman facing an unplanned pregnancy will find the help she needs to face the challenges of being a single mom. It's not easy, but I am living proof that your future is what you make of it.
Sometimes you just need someone to believe in you. In Branson, Missouri, I found the help I needed—plus a lot of inspiration—at Options Pregnancy Clinic.