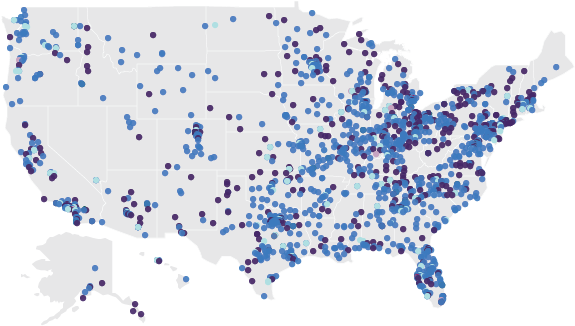 Every woman deserves love and support during an unexpected pregnancy. That's why there are pregnancy help centers around the world dedicated to providing material assistance, moral support, and medical services to meet their needs.
Pregnancy Help Centers (PHCs) are life-affirming non-profit service providers that provide women who have an unexpected pregnancy with alternatives to abortion. Their services often include free pregnancy tests, consultation, ultrasounds, material support; education and information on adoption and abortion; and services and referrals for ongoing pregnancy and parenting needs. There are approximately 2,750 PHCs in the U.S. serving women and their families every day with a 99% satisfactory rating from clients1.
Centers that additionally provide limited medical care under the supervision of a licensed Medical Director are called Pregnancy Medical Centers (PMCs). Their services include pregnancy tests and ultrasound, to prenatal care and STI/STD testing.
Pregnancy Help Centers are also called:
PRC – Pregnancy Resource Center
PCC – Pregnancy Care Center or Pregnancy Counseling Center
PC – Pregnancy Center or Pregnancy Clinic
CPC – Crisis Pregnancy Center
PSC – Pregnancy Support Center
PSS – Pregnancy Support Services
PMC – Pregnancy Medical Center
What services are generally provided by PHCs?
Free pregnancy tests
Pregnancy consultation (information about pregnancy options)
Material resources (including diapers and formula)
Post-decision support (including parenting education and abortion recovery groups)
Consultation with a licensed medical professional
Limited ultrasound for pregnancy confirmation
Testing for sexually transmitted infections and diseases
Want to know more about Pregnancy Help Centers?
Equip yourself with the truth about pregnancy centers at PregnancyCenterTruth.com, where you will find helpful stats and evidence-based answers!
If you would like to support the vital work of Pregnancy Help Centers, you can give here!
1https://www1.cbn.com/cbnnews/us/2021/december/pregnancy-centers-higher-customer-satisfaction-than-chick-fil-a