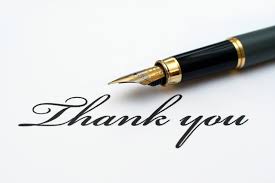 Thank you letters keep you connected to your partners
Each month, Advancement TLC brings you a sample "Thank you note" to send to your supporters. November's letter is below:

Dear Barney & Thelma Lou,
When I think about where this ministry has been and where we are going, I can't help but be excited.
I've shared our vision in newsletters, letters like this one and in churches and around the area. And as you probably know, I'm nothing but optimistic about the future.
But there is something else I'm excited about: The fact that this ministry never was, and never will be, about one person's ideas or even the thoughts of some select group.
While our board of directors is entrusted with major decisions, the simple truth is that this ministry is about all of us. It is a shared ideal that we can impact our culture toward life and we can do so right here in (name of city or area).
And best of all, we all have the honor of playing a role. Your support—through this and so many other gifts—creates a powerful partnership that says "We are in this together."
So, thank you—again. Together, we are changing our world here, one life at a time.

Sincerely,

CEO
---
By Kirk Walden, Advancement Specialist
Click here for more of this month's Advancement TLC.
Click here to download this thank you letter as a word document.