Option Line Bumper Sticker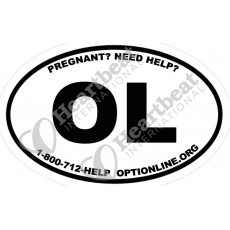 With the Option Line bumper sticker, no matter where you go women will have access to one-on-one compassionate, caring support and connection to pregnancy help near them. Option Line consultants are available in the U.S. and Canada, 24 hours a day, 365 days a year, answering in both English and Spanish. Consultants trained in Heartbeat International's Talking About Abortion answer questions by phone, text, email, or chat before connecting them to pregnancy help near them.

Check out the Special Offers or Related Prodcuts tab for information about bulk orders.
**Please note, the image above is watermarked. The diagnoal Option Line text will not appear on the actual bumper sticker.